In Italy the Bata Shoe Company began its business activities by founding own stores at the beginning of the 1930s. In the following decade production in a new Italian factory started, however it was only temporary (1941-1944). After the Second World War the Bata Company was present in Italy through its retail store network.
In the second half of 1931 the Bata Company opened the first stores in the Italian territory in Fiume (Rijeka) and Zara (Zadar)
In 1932, there were Bata stores in the following cities:  Bolzano, Messina, Fiume (Rijeka), Zara (Zadar), Abbazia (Opatija).
In the year 1933,  a trading company S. A. I. VECABA, Abbazia (Società Anonima Italiana per la vendita delle Calzature "Baťa", Abbazia, today Opatija in Croatia) was established; the company was transformed in 1942 to SAIFA (Società Anonima Immobiliare Fiumana, Abbazia),
By the year 1939 the number of Bata stores in Italy had increased to 20.
On 25th May 1939 a company SICLA, Roma (Società Italiana Commerciale L´Ancora) was set up for wholesale purchase and sale of various goods. The company office is later moved to Milano.
On 15th July 1940 a company VECA, Fabbrica Calzature, Ferrara was set up; it founded a shoemaking factory and took over other activities from the company VECABA (SAIFA); the general manager of VECA and VECABA (SAIFA) was Mario Rocco.
In factory and stores the company VECA employed: in 1941 – 416 persons; 1943 – 683 persons; the sale of footwear increased from 376,000 pairs (1941) to 703,759 pairs (in 1943); toward end of the war the Bata Company ended its shoe production in the local factory.
After the war the business in Italy became a part of the Western Bata Organization.
The retail network was controlled by a new Bata Company in Padova.
In the year 1992 the Company owned the following firms in Italy: Compar, Padova and Product Development Centre, Padova.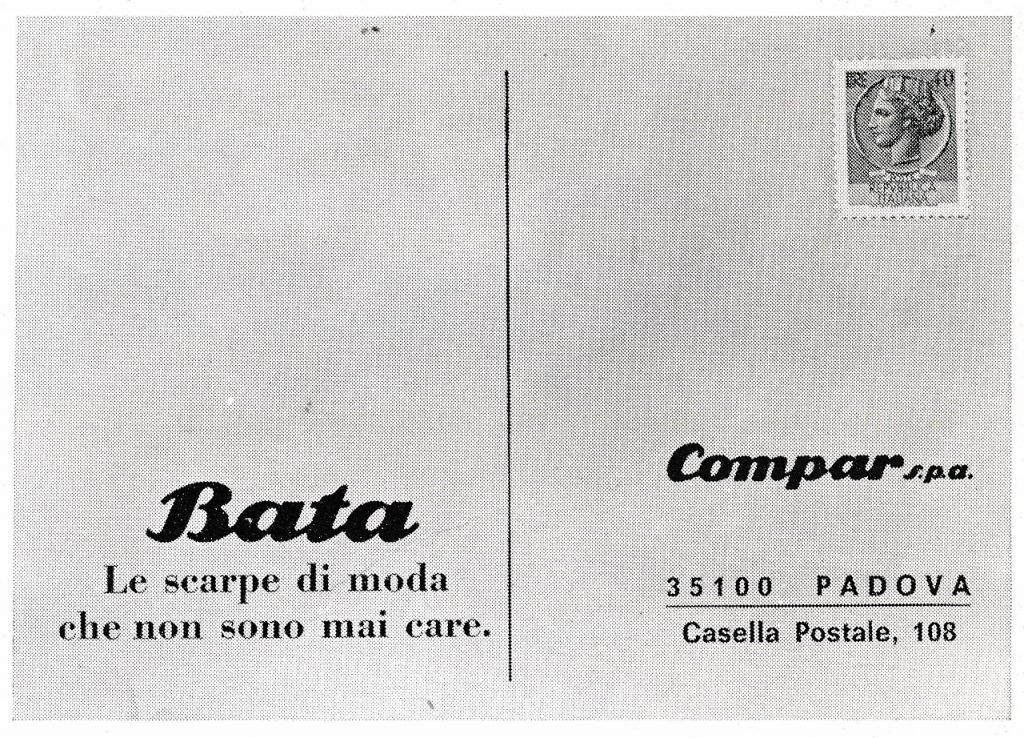 The Bata retail network in Italy in the second half of the 20th century was enriched by a remarkable product development center in Padova, with dozens of creatives preparing new collections for the Bata stores; another product development and education center was founded in Milan.
---
Sources:
Martin Marek, Čas na expanzi? Působení Baťova koncernu v severní Itálii za druhé světové války, In: Jihočeský sborník historický, České Budějovice 2012, s. 163-182. ISSN 0323-004X
Moravský zemský archiv v Brně – Státní okresní archiv Zlín, Česko